Mercedes-Benz Retail Group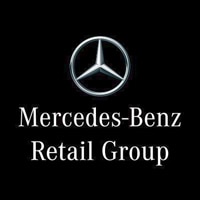 Mercedes-Benz Retail Group Dealerships
Mercedes-Benz is one of the best known and most popular automobile brands in the world. Famous for its classic luxury vehicles, the company is known to value quality, efficiency and excellent customer service above all else. The same ethos extends to Mercedes-Benz Retail Group dealerships.
As well as selling new Mercedes models, the group also supplies vans. On top of this, they sell second-hand Mercedes cars, and models from the Smart brand. They operate 20 trusted dealers across Greater London, where you can buy new and used models, book your vehicle in for servicing or an MOT, or discuss finance options.
History of Mercedes-Benz Retail Group
Mercedes-Benz dates back to 1886, when Karl Benz and Gottlieb Daimler, independently of one another, invented the first petrol powered cars. In 1901, Daimler's company marketed the first Mercedes model, naming it after a colleague's daughter, but it took another 25 years for Mercedes-Benz branded vehicles to emerge.
At the turn of the 21st century, the Mercedes-Benz Retail Group was founded in London. Drawing on the brand's long history of excellence, the company slowly spread across the north and south of the city. They now run 14 retail sites, four used car centres, and nine Smart centres.
Cars sold by Mercedes-Benz Retail Group
Mercedes-Benz Retail Group dealerships specialise in the sale of new Mercedes-Benz vehicles and offer a comprehensive range of vehicle styles, from sporty hatchbacks to luxury coupés and family-friendly estates. High-performance cars are also available from the Mercedes AMG range.
For customers after something less expensive, the company's dealers stock a good selection of approved used Mercedes vehicles. You can also browse its Smart centres, which feature new and used compact Smart cars. Mercedes-Benz Retail Group also caters to business users, with a van range and competitively priced vehicle leasing.
Other Mercedes-Benz Retail Group services
You can use a Mercedes-Benz Retail Group dealer for the following services as well (may vary by dealership):
Car Finance

MOTs and Servicing

Business Leasing

Car Parts and Accessories