3 Ways to sell your car with Motors.co.uk
Ready to sell your car? Motors.co.uk can help you get maximum value for your vehicle. With three options to choose from, selling a car has never been easier.
At Motors.co.uk, you can sell your vehicle quickly by finding your best offer from a network of verified car buyers and dealers through our trusted partnership with Motorway, or part exchange your car with established dealers in your area. You can even advertise the sale of your vehicle for no cost at all using our free private listings.
Want to know how much you could get for your vehicle? Use our free valuation tool and get an instant estimate of your car's worth. It's easy, simply type in your registration and mileage and we'll tell you there and then what you could get. Or, check out our Car Price Guide to find out how much certain vehicles are selling for right now.
Want step-by-step advice on how to sell your car? Use our handy car selling guide to aid you in the process – it has everything you need to know about selling a vehicle.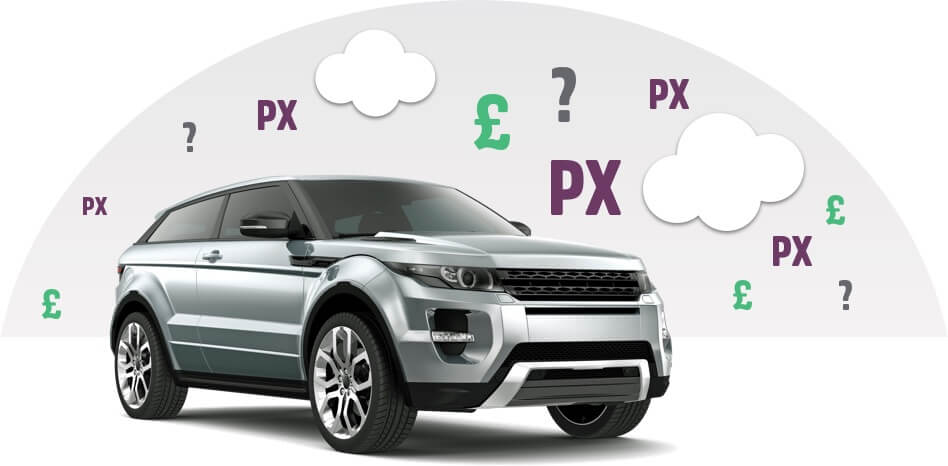 What is your car worth?
At Motors.co.uk, we want to help you get the best possible price for your car and it starts with a free valuation. We provide hundreds of valuations every day so you know you'll get the most up to date price. Knowing what your car is worth will help you get the best price when you sell your car.
Why use our valuation tool? It's fast, it's free and will help you sell your car quickly.
Get a free valuation
Three easy ways to sell your car
Verified car buyers
Part Exchange
Free private listings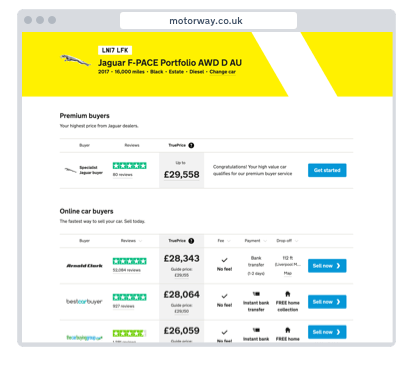 Verified car buyers
We've partnered with Motorway so you can sell your car for free without ever leaving your home. Receive the highest offers from over 3,000 verified car buyers, and sell for up to £1,000 more.
Simply click through below, enter your reg, and you'll to taken to Motorway to profile your car and complete the sale within 24 hours.
Get your highest offer from verified car buyers
No haggling or hassle
Completely free with home collection
Sell your car in 24 hours
Part Exchange your car
Looking to buy a new car, but you still need to sell the one you have? Want to swap your old car for a newer one? A part exchange could be for you.
With dealers across the country ready to help, you can use the value of your used car against the vehicle you want. You'll be in your new car in no time at all.
Collect your next car the same day
Multiple dealers to choose from
No cash option
You have to haggle for two vehicles
Sell my car with a free private listing
Selling your car privately could take more time than a part exchange or a sale to online buyers, so we've made the process as easy as possible. And it's free! You get to set the asking price of your vehicle and can strike a deal when it suits you.
We'll help you create a professional looking advert in less than ten minutes, helping you get the best price for your car.
Free private listings and re-listings
Set the price you want
Sell when you want
No guarantee of a sale
Time and effort
Car selling tips
Ready to sell your vehicle, but still not sure what to do or what's best for you? Check out our definitive guide on how to sell your car. Our easy to follow, expert guide covers all aspects of the selling process with top tips from industry professionals. From preparing your car for sale, to the paperwork you need and so much more, we have it all covered at Motors.co.uk.
Car selling tips