How to create the perfect free car listing
What you need to create your listing
You don't have to be a professional to write a listing that stands out. Before you begin, make sure you've read through and have everything you need to hand. You'll need the following:
Correct documentation:

save time by making sure you have all the right paperwork before creating your listing. Read our handy guide to find out what documents you need to sell your car privately.

Asking price:

use our free valuation tool to find out how much your car could be worth. You can use our estimated figure as a guideline to help you decide the price of your vehicle with confidence.

Honest description:

use short, simple sentences and be clear, concise and informative. Don't use tired clichés or abbreviations, just stick to the facts and keep it relevant. Be honest about your car and its condition.

Great photos:

you can use up to 5 images to showcase your car. Make sure they're in focus and show your car from a variety of angles - inside and out.
How to write a description that attracts buyers
A great description gives potential buyers everything they need to know about the car you're selling. Keep it interesting and informative, but don't go over the top and make it too good to be true. Here's what you should include:
1 - 2 sentences about the condition of your car and list any faults - you don't have to highlight every single scratch but you're more likely to get a sale if you're upfront about any damage
Mention if you have a full-service history and if your car is still under a transferrable warranty
List the number of previous owners if your car has passed through a few hands
Highlight your car's MOT, especially if you've got a new 12-month certificate
List any stand-out optional extras that don't come as standard, such as a DAB radio, leather upholstery, rear parking sensors and parking cameras
We'll automatically include a few details in your advert using your vehicle registration number (VRN) so you don't need to include them in your description.
Make and model of your vehicle
Whether it's front, rear or four wheel drive
Your vehicle's fuel type, mileage and registration date
Number of seat and car type (whether it's a 5-door estate or a 3-door hatchback)
Transmission type, whether manual or automatic
Its miles per gallon (mpg)
Photographing your car like a professional
Now that you've written a killer description, it's time to take a few photos to get your car noticed. Potential buyers are naturally drawn to adverts with quality photographs. As the saying goes, a picture is worth a thousand words. Our photography tips will help you take the best photos possible - increasing your chance of a sale. You'll want to: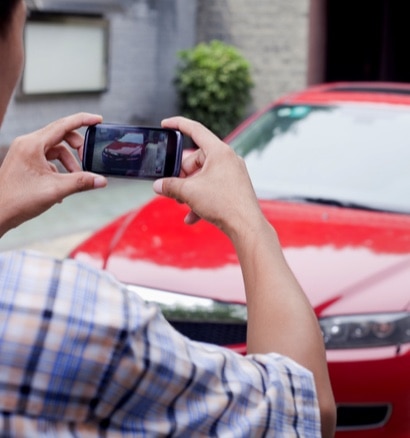 Clean your car inside and out
Take pictures during the day in nice weather against a clean background
Ensure images are clear and close to the vehicle to show its condition, whilst also capturing the entirety of your car
Hold the camera level, at landscape and at the height of the wing mirror
Capture pictures of your vehicle from different angles and inside the cabin
Remove all belongings and straighten the steering wheel for interior shots
Stand outside the front passenger door and take a picture over the window frame to get a good image of the cabin or sit on the backseat to take a picture of the entire dashboard
Make sure your pictures aren't blurred or pixelated
Highlight any damage that could surprise potential buyers - that doesn't mean every scratch and bump, but being honest about your car's condition will earn a buyer's trust
Take advantage of the opportunity to upload 5 photographs in your free listing - most buyers like to see a car from multiple angles, outside and in
Selling your car privately has never been easier and we're here to help you every step of the way. You've collated all of your paperwork, written a description and selected the images you want to use - it's time to create your free listing to sell your car.