How to prepare your car for sale
Consider your car's condition before a sale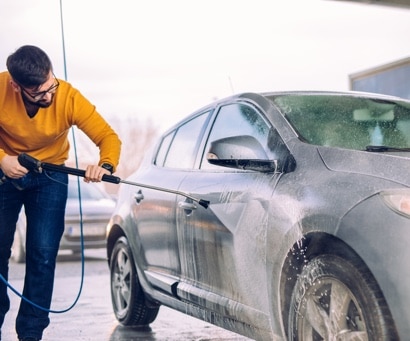 In a private sale, signs of wear and tear could become major negotiating points. But car buying sites, auctions and part exchanges tend to be more forgiving of minor dents and scratches.
The most important thing to do first, before you decide how to sell your car, is to get an up-to-date market valuation of your vehicle. There are a couple of ways to do this:
Use a free online valuation
Compare your make and model, including mileage and condition, with other cars being sold privately. Use our Car Price Guide to quickly and easily compare prices.
Be sure to check prices with private sellers over dealerships. Dealerships add supplements to prices in line with the other services provided by the company.
Best time to sell your car
Certain cars sell better during certain seasons. Consider the time of year you are selling, as well as the age and mileage of your car. Remember:
Online auctions:

pay days and weekends often produce better results

Spring and summer:

convertibles and cabriolets tend to sell better when the weather is nice

Autumn and winter:

4x4s are more desirable when the weather and road conditions are poor

Major festivities:

avoid trying to sell a car directly after a major spending event like Christmas or the summer holidays

Part exchanges:

visit dealerships during traditionally quieter months -

December, January, March

and

August

.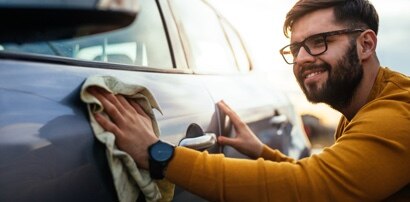 How to prepare your car for sale
Presentation is key when it comes to getting your car ready for sale. As well as making it significantly more appealing, having a well-prepared car can also add hundreds, even thousands, onto the value of a vehicle in some cases.
It's also a good idea to collate all of your car's paperwork ready for the new owner, as this is key to proving that it has been well maintained over the years.
Below are a few ways to maximise your car's value, and get it truly ready to move onto the next owner.
Having it professionally valeted

While you might think that giving your car a quick swill over with a hosepipe and a five-minute vacuum will have your car sale ready, the reality is that this is not the case.

It's worth having your car professionally valeted to get it looking its best for sale, this includes having the outside and inside done, while a clean engine bay also looks great in photos. This will really help to get it looking its best for sale, and make it stand out in photographs if selling it privately.

These valets can start from as little as £20 at a local car wash, or from around £30 if using a unit-based valeter or those operating on a handy mobile basis. If you find it a struggle to track down a reputable valeter, you can do a postcode search on the Pro Valets association website to find reputable companies.

Detailing

Detailing might be something you've never heard of, but what it essentially involves is machine polishing a car and focusing on the finer details to get a car looking its best. It usually works best on more expensive cars, but removing fine scratches, scuffs and marks from a low-mileage car can pay dividends when it comes to your car's value, as it helps a vehicle to look 'as new', or sometimes even better.

Dent removal

Dents can significantly reduce a car's value. Paintless dent repair (PDR) is transforming dent removal at the moment, provided the dent can be 'pulled' from a car using specialist tools. It doesn't always produce perfect results, but is a great way to get your car showroom ready and increase its value, without even having to touch a bodyshop for an expensive repair.

It could well be worth the investment, especially if you're looking to sell or part-exchange quickly with car buying service that offers you a pre-agreed price.

Photographs and the advert

Photographs can be a deal breaker for some buyers. Poor quality photos might mean that potential buyers keep scrolling down a web page if you have sub-par images.

You don't have to be a professional photographer, but taking pictures of your car with an attractive and simple backdrop from all of its angles can make a big difference to potential buyers. Have a look at other adverts and see how their photos are taken, and use the best ones as inspiration.

A well-written advert is equally important if selling a vehicle privately. Avoid using any text language abbreviations, and be sure to include your car's standout and relevant features. Mention the number of owners, its condition, service history, mileage, key equipment on the car and when the next MOT is due as a minimum.

Look after a car throughout ownership

This is easy for us to say, we know, but looking after a car throughout your ownership of it really can improve its value and keep it sale ready. Cleaning it frequently, keeping to your car's servicing schedule and staying on top of regular maintenance are important to keep your vehicle in good running order, but also to help prove it's been looked after when the time comes to sell it.

The importance of a long MOT

Now that tax no longer transfers from owner to owner, as it did in the past, the MOT is now more important than ever. A full year's MOT will give buyers confidence in your car, and make it more desirable and valuable than a car with an expired MOT, or one with just a month or so left on it.

Depending on the value of your vehicle, if it's due a service, it could be worth paying to have this done, particularly if the car has had a full service history up until that point. It will make the car stand out in the crowd as a new buyer will be happy to just jump in and drive, rather than having to go to a garage straight after they've purchased it.

Honesty

Honesty counts for a lot when selling a car. Someone will likely be put off buying your car if they sense that you're acting sheepish, potentially lying to them or covering up faults.

The rule that 'treat people how you would expect to be treated yourself' is very important when selling a car, and worth remembering.

Gather the relevant paperwork

When selling your car, it's very important to have the correct paperwork ready. This includes service history, the V5C registration document and any MOT certificates and relevant paperwork that shows what work has been carried out on it. This will likely increase its value, too. Read our guide to ensure you have the relevant paperwork for selling your car.

Empty it of belongings

If people are valuing your car, or coming round to view it at your house, they don't want to see it full of clutter and belongings. Empty it of all but the most essential things (providing the car is still being used at this point), and it will make it far more appealing to someone viewing it. Check any hidden storage areas and cubby holes, too.

Check fluid levels and tyre pressures

While we have mentioned this as part of general maintenance throughout ownership, don't forget to top up all fluid levels and to check the tyre pressures when selling it as well. A car that has low tyre pressures and oil levels doesn't give much of an impression that it has been looked after, and therefore will be less desirable for potential customers.