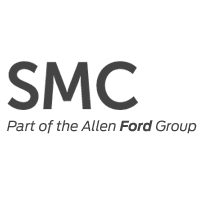 SMC Cars Dealerships
Sometimes referred to as the SMC Group, SMC Cars is a vehicle dealer group with franchises across Kent, Middlesex, Berkshire and London. The company specialises in dealing new and used cars and vans made by the Ford, Suzuki and Mitsubishi marques. SMC also sells and adapts cars in association with the Motability scheme.
SMC Cars dealerships can be found in a number of locations, including Crayford, Gravesend, Hillingdon, Sittingbourne, Slough, Uxbridge and Windsor. Some locations are also dedicated service centres, where customers can book a car servicing, buy new tyres and find replacement parts.
Finance options are available to help buyers break down the cost of buying a new or used vehicle. Business customers can also use the company's fleet services.
The history of SMC Cars
Founders Mike Warnes and Leon Friedman formed SMC (which stands for Slough Motor Company) in 1982. The owners then acquired two locations, which operated as Ford showrooms, in Sittingbourne. As the 1980s concluded, SMC opened a dealership in Hillingdon (1989) and a state-of-the-art showroom in Gravesend (1990).
By 2007, the company was licensed to deal in Suzuki and Mitsubishi vehicles as well, which helped lead to the creation of more dealerships in SMC's service areas. In 2016, its locations in Sittingbourne, Heathrow and Gravesend were awarded 'Transit Centre' status for servicing provisions.
Types of cars sold by SMC Cars
The business sells a wide range of cars that are mostly designed and made by Ford, Suzuki and Mitsubishi. Popular models from Ford include the Edge, Fiesta, Focus, Galaxy and Ka. The Suzuki selection features the Vitara, Celerio, Swift and Splash. Finally, the Mitsubishi collection is represented by models such as the ASX and Outlander.
Other SMC Cars services
You can use SMC Cars for the following services as well:
Car Finance

Vehicle Maintenance

MOTs and Servicing

Car Parts and Accessories